Wallpaper Specs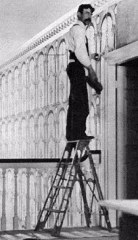 Our papers are like historic wallpapers; they come untrimmed and unpasted. Fill papers can be purchased by the roll and are packed as single, double and triple rolls in one continuous roll.
Borders, dadoes and enrichments are purchased by the yard and are cut to the length needed.
Experienced wallpaper hangers are familiar with historic wallpapers and how to install wall and ceiling designs. However, many homeowners will find they can do it themselves with a little patience. Hanging instructions are included with every order.
Ordering samples is recommended, as no computer can accurately capture the true colors. Samples can be purchased for all patterns. Wallpaper comes in untrimmed rolls, which ships better. Papers are printed custom, and we can offer no returns unless defective.




How much wallpaper will I need?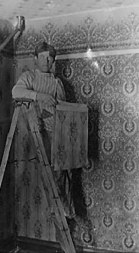 A single roll of wallpaper is approximately 18 inches wide by 5 yards long and covers 22 square feet. Each roll is 15 linear feet of paper.
A common historic width is 18 or 19 inches, yielding 22 square feet per roll.
Measure the wall height and perimeter of the room. Multiply the wall height by the perimeter to calculate total square feet of wall space. Divide the total square feet of wall space by 22 to figure the number of rolls needed. The formula is: number of rolls = (wall height x perimeter)/22.
Do not subtract doors and windows when measuring the room. The extra paper is required for matching the pattern. For tripartite designs, the wall height is measured from the dado to the frieze.
For borders, friezes and dadoes, measure the perimeter of the room or the dimensions of the area to be enclosed with the border. Be mindful that some patterns are printed with multiple borders to a width of paper. Divide by this number to calculate the number of yards required.